Year 3
Welcome
HOMESCHOOLING UPDATE
MONDAY 18TH MAY
Our homeschooling will continue to be set through google classroom. Parents and carers will have received login details on Friday via email.
To access the classrooms, follow this link:
https://classroom.google.com/h
In Year 3 we are going to continue to work through the Oak Academy lessons. We will continue to set a Maths, English and Topic lesson each day, but depending on your families circumstances and the children's confidence of the concepts being taught, you may wish to work at a slower or faster pace than this. We also understand that some parents may prefer to use other learning resources, such as BBC Bitesize.
For those of you who haven't yet accessed The Oak Academy Lessons yet, these two videos will show you how to find and use them: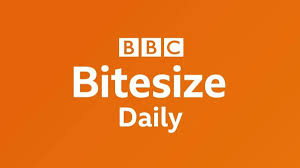 We hope everybody and their family are well and you have been able to enjoy your Easter holidays. As we look towards continuing our learning from home, we wanted to share a brilliant new resource from the BBC. Everyday they are going to be providing free lessons with videos and activities to do. We think this would be a great way to revise skills learned so far in Year 3 and hopefully pick up a few new ones too. Click here to be sent straight to the Year 3 Daily Lessons home page where you can access everything you need.
Here are some learning website links, such as Spelling Shed, Times Tables Rockstars and Oxford Owl (free ebooks).
Excellent home learning for maths with video tutorials and worksheets to do after watching them. Most children should try the Year 3 resources unless you know they find Maths a particularly difficult area of their learning. If your child finds them too hard or too easy, then you could try the year above or below.
Times Tables Rockstars - By the end of Year 4, children should know all times tables up to 12x12 by heart and related division facts. They should be able to answer 20 random question in a minute. This will require a lot of practice at home.
For those of you who have children that are finding reading a challenge and still developing the fluency of their word reading, 'Teach Your Monster To Read' are offering free accounts and apps to allow children to learn from home. You can create accounts and get details from:
https://www.teachyourmonstertoread.com/
There is a 'Year 3 Learning Away From School' area below, but currently all of the resources you need are on Google Classroom instead. The information on that page at the moment is a copy of this page. Should we begin to use the 'Year 3 Learning Away From School' for anything different we will put a clear message on this page.
Accelerated Reader
During time not in school, don't forget to make sure you keep reading! If you would like to do book quizzes online at home, make sure you do them independently and you will need to click on this link to do them:
https://ukhosted2.renlearn.co.uk/1894094/
You will just need to use your normal username and password that you do at school on the chromebooks! Don't forget, you can do book quizzes on books that you have at home too - most of them should be on there!
You can also listen to hundreds of different stories via these links:
https://stories.audible.com/discovery
https://home.oxfordowl.co.uk/books/free-ebooks/
You can listen to all sorts of different books/stories through audible and oxford owl - maybe you could listen to one whilst drawing or colouring or crafting! Let us know which books you listen to and like!
****UPDATE**** please check Oxford Owl E-library for books which are compatible with Accelerated Reader. You can access the library for books suitable for ages 7-9 here:
https://www.oxfordowl.co.uk/for-home/find-a-book/library-page/?view=image&query=&type=book&age_group=Age+7-9&level=&level_select=&book_type=&series=#
Please log into Accelerated reader using the link above (your child will know their log in). Under bookshelf search for any of the books in the Oxford Owl E-book range. If the book comes up with the correct title and author then a quiz is available for that book. Please don't worry if the illustration is different as long as the title and author are correct. Accelerated reader will also show you the level for each book you search. Your child can read the book online and then take the Accelerated Reader quiz as normal.
It is important for all children to be aware of staying safe on the Internet. Over the period of the school closure, it is vital to have regular conversations about how to stay safe. This poster reminds us of some of the key internet safety rules. Should you have any difficulty viewing the image, there is a copy of the poster in pdf format below.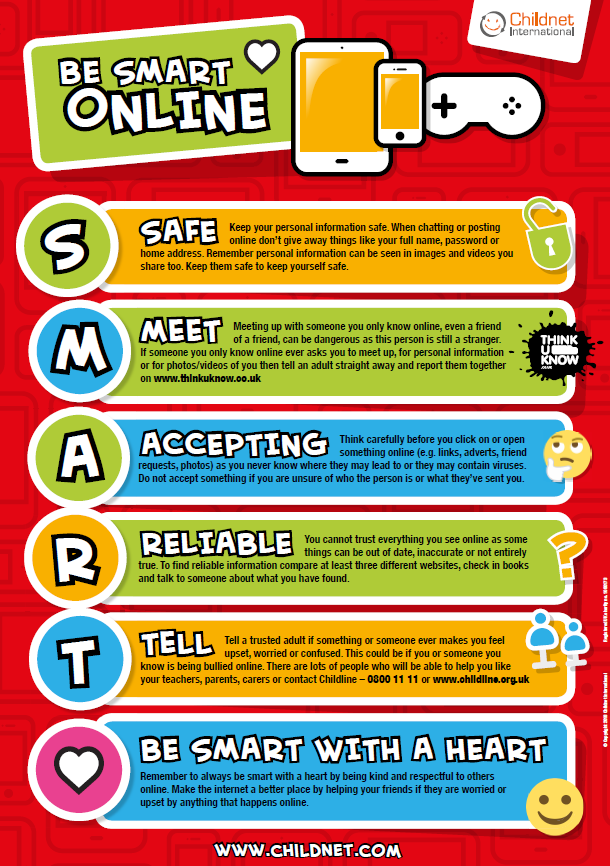 Parents: Visit our 'Safeguarding and Child Protection including e-Safety' page in the 'School Information' section of our website for more internet safety advice and weblinks. Below you will also find a document with advice for parents whilst schools are closed.