Y3 Learning Away From School
HAPPY EASTER HOLIDAYS - We hope everybody and their family are well and you have enjoyed the learning from home you have taken part in so far. As we reach the end of the Spring term and head into the Easter Holidays, you can find some Easter activities to do via a link near the bottom of the page. Have a great Easter everybody!
UPDATE: Mr Pope and Mr Colley have added an assignment to each of the Google classes below. We will add new ones periodically throughout the school closure. You can do these on paper and then submit your answer online, or you can create google docs to record your answers and submit or share them with your teacher. It's always good to look back at your work and see if we have left you some feedback. Once you have done them, you can go back to the wider range of other activities in each classroom.
Due to the school closure, we have compiled some activities that your child could do at home to support their learning. Please read the letter 'Year 3 home learning letter' that is at the bottom of this message for further guidance on our planned approach to home learning in Year 3.
All of the children have written their username and password on a slip of paper that they will bring home. This allows them access to Google Classroom. We will share resources via Google Classroom. There are different online 'classes' for different areas of learning. These are secure pages that only those who are invited can view. Most activities can be viewed on a wide range of devices and the children can then work on paper. You can print many of the resources if you prefer.
There are also some website links, such as Spelling Shed, Times Tables Rockstars and Oxford Owl (free ebooks).
To access the lessons they need to go to https://classroom.google.com and login using the details they have brought home.
If your child hasn't had or can't find their login details, most usernames are:
firstinitial.surname@wpsch.net (e.g. b.johnson@wpsch.net)
All of the children have memorised their password as they use it most days on the chromebooks in class.
At the bottom of this page is a basic guide to getting started with Google Classroom if required.
The Google Classes that the children can 'Join' are:
We follow the 'White Rose Maths' scheme at Werrington. The White Rose team are putting together free resources for home learning. Here is the link https://whiterosemaths.com/homelearning/
Year 3 Home Learning Topic Activities
Websites:
Excellent home learning for maths with video tutorials and worksheets to do after watching them. Most children should try the Year 3 resources unless you know they find Maths a particularly difficult area of their learning. If your child finds them too hard or too easy, then you could try the year above or below.
Times Tables Rockstars - By the end of Year 4, children should know all times tables up to 12x12 by heart and related division facts. They should be able to answer 20 random question in a minute. This will require a lot of practice at home.
For those of you who have children that are finding reading a challenge and still developing the fluency of their word reading, 'Teach Your Monster To Read' are offering free accounts and apps to allow children to learn from home. You can create accounts and get details from:
https://www.teachyourmonstertoread.com/
Accelerated Reader
During time not in school, don't forget to make sure you keep reading! If you would like to do book quizzes online at home, make sure you do them independently and you will need to click on this link to do them:
https://ukhosted2.renlearn.co.uk/1894094/
You will just need to use your normal username and password that you do at school on the chromebooks! Don't forget, you can do book quizzes on books that you have at home too - most of them should be on there!
You can also listen to hundreds of different stories via this link:
https://stories.audible.com/discovery
You can listen to all sorts of different books/stories through audible - maybe you could listen to one whilst drawing or colouring or crafting! Let us know which books you listen to and like!
For children working below Year 3 level:
At Werrington Primary School we understand that children are individuals and have their own strengths and weaknesses. Therefore we would like to ensure that parents with children that find elements of their learning difficult have the ability to support their child. If child is working at Year 3 level then they will hopefully be able to access most of the work in the Google Classrooms above, especially if adults are able to give them some guidance.
Many of the activities set will be accessible to all children in some form, however if your child is unable to access them then there are two key steps you can take:
1. Access work from the younger year group class pages.
2. In school, we support children with specific learning needs through the use of a 'Wave 3' Teaching Assistant. These adults help children working below year group expectations to improve. We have set up separate Google classrooms with 'Resources for Wave 3 children' which means they will be able to access learning at an appropriate level. These google classrooms can be found with the following links:
Maths resources for Wave 3 Children
English resources for Wave 3 Children
It is important for all children to be aware of staying safe on the Internet. Over the period of the school closure, it is vital to have regular conversations about how to stay safe. This poster reminds us of some of the key internet safety rules. Should you have any difficulty viewing the image, there is a copy of the poster in pdf format below.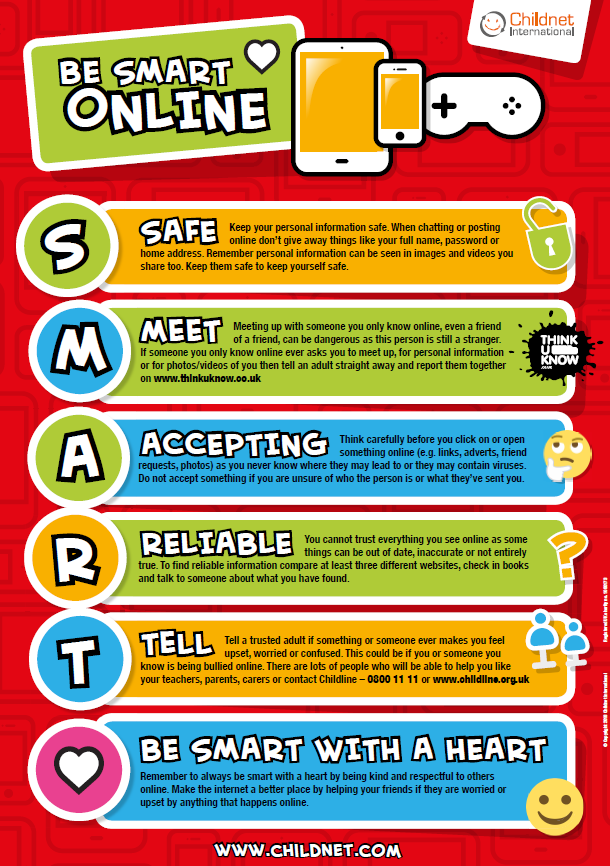 Parents: Visit our 'Safeguarding and Child Protection including e-Safety' page in the 'School Information' section of our website for more internet safety advice and weblinks.